First of all, before anything else, I'm doing just a *little* bit of news.  It's sort of related to my blog post today.  What Not to Fear is out!  It's available at Decadent and Amazon.  I'm sure it's available elsewhere, but those are the two spots I've confirmed.  If you liked Fae Eye, or if you're into Angels, or if you like the juxtaposition of Noir, Fantasy, and Mad Science, check it out.  You'll be glad you did!
Now, for those of you who, like me, live under rocks, that was a bit of blatant self-promotion.  I have a product that I think people would like, and I'm telling them about it.  A little bit about the product, the simple fact that the product is available, and where you can get the product.  Simple concept, right?
Yeah.  Apparently, I am particularly bad at this particular activity.  I'm pretty good at the 'writing' part of being a writer.  I've had people swear at me because my books hooked them so bad they couldn't put them down for over five hundred pages.  I've had people threaten me with bodily harm when I ended something with a cliffhanger, because they had to know what happened next.  Now, I know I'm still growing and learning as an author, but with the feedback I've gotten, I think I can say I'm solidly into the 'worth the price of admission' range.
Admittedly, your mileage may vary, but that's the great thing about the modern publishing industry.  Avid readers never have to say 'there's nothing good to read'.  There's always something good to read.  The problem, as Eric Flint so wonderfully put it in one of his Salvoes Against Big Brother, is that there are so many new titles out there, and no way for a prospective reader to find the books they want to read.
That's where promotion comes in.  For those of you, like me, who live under rocks, promotion is where an author or publisher puts the word out every place they can reasonably expect it will be heard that they have a book for you to read.  They post it on FaceBook.  They Twitter it.  They put it up on websites, although I'm getting a little recursive there.  They hold contests and ask for reviews and do all manner of strange and wonderful things to let readers know about the wonderful new book.
Of course, as I'm doing all this, I'm wondering how well it's working.  I'm also wondering if it works at all.  I've seen some folks spend hours and hours putting their heart and soul into promotions and get stellar results.  I've seen others do the same and get nowhere.  I've seen people do almost nothing and get nothing in return, I've seen others do almost nothing and take off like they're blessed by some particularly capricious god of sales.  Being a scientific sort, i went looking for statistics.
The sad truth is something I should have known from my time as a reader.  When I go to a bookstore, the first thing I look for is something new by an author I've read before.  The second thing I look for is something a friend, typically my friend Dustin, told me about.  Hi Dusty!
Anyhow, if I have any money left after those purchases, I go cruising through for pretty covers, or publishers I've come to trust, or maybe even a sale.  OK, sales are probably more effective than I want to admit; I don't generally have much cash, and if I've got a twenty five dollar gift cert, twenty two dollars of books, and your book is on sale for three bucks?  Congratulations, I'm giving you a read.
At any rate, the statistics back that up.  Primary sales motivator?  Personal knowledge of the Author.  Secondary motivator?  Recommendation by a friend.  Falling into a related category is the Tertiary motivator for most folks; book reviews.  If you don't get enough recommendations from friends, reliable reviewers can make up the gap.  Price is next, and coming in way down the list are all the other things we do to promote our books.
Makes it tough to be a new author, lemme tell you.  However, I know some of you reading out there liked what I did before, and are going to give What Not to Fear a try, and I want to say a HUGE "Thank You!" to you guys and gals.  I'm going to be at Dorian's Parlor this July, and Authors After Dark roughly a month after that.  If any of you would like to meet me, chat with me, have me sign something, or even yell at me for something, I would be thrilled to meet you.
So.  To get back to my point, it's tough out there for a new author.  People buy books because they know the author's work.  To know the author's work, they've got to read it.  To read it, they've got to buy it.  You see the cycle here, right?
So tell me in the comments, if you would, other than prior experience with the author or a personal recommendation, what makes you pick up a book and give it a try?  Should I try the Id Software / Drug Dealer proven method of 'first one's free'?  Should I offer up glittering prizes should I reach a certain number of sales?  Should I write each and every reader a thank you note?  Let me know, K?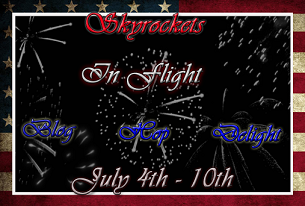 Finally, on a related note, I'm going to be participating in the Skyrockets In Flight Blog Hop on July 4th.  If you're hear reading this from that blog hop, WELCOME!  And how are you doing it, since the blog hop isn't until the 4th?  AAAAHHH!!  Time travellers!  Run!