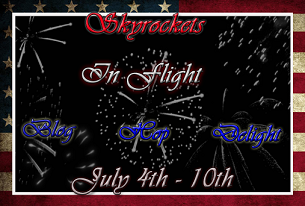 First, a big hello to everyone who is visiting from the Skyrockets In Flight Blog Hop!  Welcome to my little corner of the web, I'm glad to have you here!  For those of you hearing about the blog hop just now, scroll to the bottom of the page and you'll see the linky list; please hop around at least a little; there are a lot of free giveaways going on over the next few days!
Next, for those who are visiting, I've JUST released a new book, What Not to Fear. It's the second book in my Artifice series.  The first one was Fae Eye for the Golem Guy, and people have said plenty of good things about it.  Go on, check 'em out.  Everybody loves Pixie Fairy Godfathers!
I've got a special offer for anyone who buys What Not to Fear.  Send me some form of Proof of Purchase (screen cap of the buy screen works great, but I'm pretty easy to convince) and  I'll email you a copy of the song that Blue of Hello-The-Future recorded special for the book!  That's right, with each copy of What Not to Fear you buy, you get a free copy of Too Good To Me!
OK, if any given one of you buys more than one copy of my eBook, I'm cool with it, and I'll send you another copy of the mp3, but that's… a little odd.  Still, maybe you really liked it and think I deserve the extra pat on the head!  Yeah!  That's the ticket!
Now, in other news, I've currently put everything on hold to work on a pair of submissions to the Machine of Death 2 anthology.  Yeah, it sounds gruesome, but it's really not as much as you think.  The theme of the book is 'what would you do if you knew how you were going to die'.  Not when, or why, or any real details, just a few words.  A friend of mine who has read my Steam Punk recommended I submit something, said my work would fit right in and they're looking for Steam Punk.
Of course I got not one, but two ideas, one Steam Punk the other Cyber Punk.  So I'm writing both and submitting them.
Other than that, I go back to work on the 5th, at least part time, doing summer planning.  While it sounds like that might cut down on my writing, I do most of my plotting and planning and non-writing writing related activities while driving.  Also, I've been either sleeping in way late or getting up too early and shorting myself on sleep, and the part-time thing will get me on a set schedule, so I fully expect to get at least four manuscripts done in July.
No, I'm not that fast.  Two are half done and two are shorts.  Also, I'm going to be rewriting some small portions of the MS I'm pitching at Authors After Dark.  Because, y'know, I'm going to be at Authors After Dark.  Yep, if you want to meet the mind that the Pixies crawled out of in person, come on down to the book signing.  I'll be there!  If you can't wait that long, come on over to Dorian's Parlor.  I'll be there, too!
Ok, ok.  I know many of you are tapping your feet impatiently, saying, 'We were told there would be cake!  Where is the delicious cake?'  You've read this far, it's only fair to give you delicious cake.  Or, rather, a contest for delicious cake.  OK, I'm lying.  They're cookies.  Some homemade, some not.  There are other goodies as well.  Cookies, and candy, and coffee, and even some cheesy toys that reminded me of the theme of my contest, which is my new book, What Not to Fear.  Plus, I'll send you a signed cover flat and a copy of the eBook as well!
Entry is simple – the heroine of What Not to Fear is a female police officer.  Name your favorite female police officer in the comments, along with a way to contact you if you win, and you're entered in the contest!  I'm kind of assuming fictional police officers, but if you know a real life one who needs some internet shout outs, put 'em on up there!
Good Luck Everyone!
EDIT – Just wanted to note that I *will* ship internationally if need be!
The list of blogs for the hop is just below.  Thanks for dropping by!